TAMAULIPAS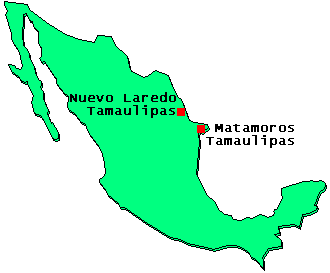 TABLE OF CONTENTS
XEFE-2
Nuevo Laredo TA
Es
XHAB-7
Matamoros TA
Tropo
XHFOX-17
Reynosa TA
Tropo
XHLNA-21
Nuevo Laredo TA
Tropo
XHFTX-57
Nuevo Laredo TA
Tropo
Tamaulipas is the nearest state of Mexico at our location. The VHF and UHF stations from Reynosa and Matamoros boom in here regularly. Although XHFOX-17 is operated by Televisa, the station is the English-speaking Fox affiliate for the McAllen-Brownsville, Texas market. The ID below is from 1996.
XEFE-2 Nuevo Laredo (1998)
(Via Es at only 483 miles!)
XHAB-7 Matamoros (1996)
XHAB-7 Matamoros (1999)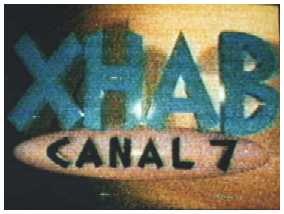 XHLNA-21 Nuevo Laredo (1997)
XHFTX-57 Nuevo Laredo (1997)


This page (tvsrio2.htm) was prepared using Windows Notepad (text editor) and Netscape Composer (for table) on 5-30-99. Updated 8-24-99. Photographs are property of Danny.
---